PROJECTS
UPDATE 2016: TILT-DOWN FENCE COMING SOON!!!
Tilt-Down Fence, a public art installation project that serves the local immigrant population currently residing in Dorchester is under process!
Tilt-Down Fence is a temporary urban stage, a place and space for the local community and more. The installation is a series of 7 ladder bench+table systems in Fields Corner, Dorchester, MA that will be up for one month! The fence is a metaphor and has purpose.  It's a climbing structure [metaphor: the economic ladder] and a framework for adults to gather, support and network towards upward mobility. Being sited near the MBTA public bus stop, Tilt-Down Fence will also serve the community at large, the VietAID Au Co pre-schoolers, parents and the elderly population.
In the past few weeks, BR+A+CE has been recruiting textile artists , fabricators, and scheduling the entire process for our D-DAY deadline of  Saturday, Sept. 3rd. We received approval from the MBTA, found a metal fabricator, had our first meeting with two textile artists who are on board full time, and are preparing everything we need to make the Tilt-Down Fence real! We are now purchasing and have ordered needed materials to fabricate and prototype before we go into full production, fabrication, and installation!!
The project is conceived, fabricated and fund-raised by BR+A+CE.  We rely on crowd funding to help us make the project a reality.  Please help us make the Tilt-Down Fence real by making sure to visit our Donation page (link below) and "Like" our Facebook page to receive project updates.
The Impact
Your contribution turns an underused green space into an active public art space for residents. Tilt-Down Fence is BR+A+CE's fourth public art project, following the successes of  the Mobile Farm Stand and The Big Hammock Project at Rose Kennedy Greenway and at Adam's Park in Roslindale, MA.
The Tilt-Down Fence serves the community at large, the Viet-AID pre-schoolers, parents and the elderly population. BR+A+CE is currently consulting with the city to bring resources and services to advance and support the city's immigrant residents.
Your support will create new conversations about immigration communities, cultural exchange, and their contributions.  The opening is tentatively on Saturday, Sept 3rd. We are planning events, activities, and more at the Tilt-Down Fence, so come be a part of the exciting event!
We know some people just can't contribute, but that doesn't mean you can't help us!
Spread the word! Tell your friends, families, and colleagues about our project and fundraising!
To volunteer or propose ideas for an event please email us at ik@br-a-ce.org
We would like to give this project a second life, please email us at ik@br-a-ce.org  to bring Tilt Down Fence to your school or neighborhood park.
Follow us on Facebook for updates: https://www.facebook.com/BRACEboston/
Come visit us on Sept. 3rd  at Fields Corner at our opening!
LET'S GET IT GOING!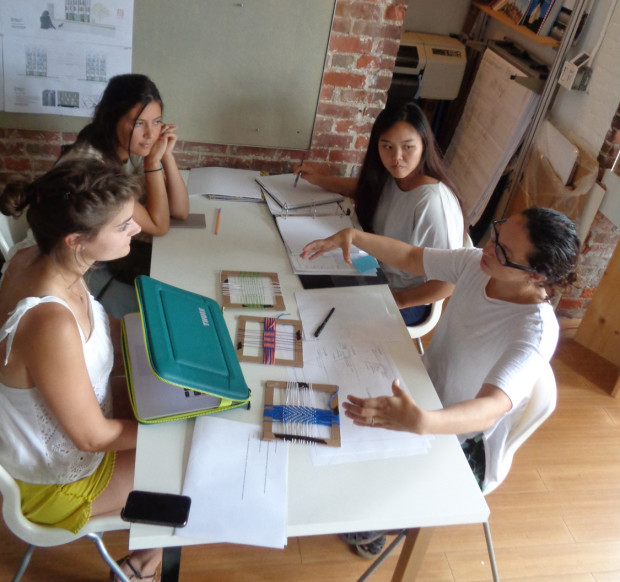 We met with textile artists Isabelle and Michelle to discuss textile weaving techniques, material, and scheduling. 

Donations, our budget, and how much we still need to raise. 
BREAKDOWN:
Operating Expenses: Textile Artists and Project Management- $7,208.00
Liability and Insurance- $2,600.00
Delivery, Materials and Supplies- $8,522.00
Marketing- $ 330.00
TOTAL Budget: $18,660.00 – $12,000 Grants Received (see project sponsorship below)=
TOTAL REMAINING: $6,600
Project Sponsorship
We are thrilled to again be honored with a $1,000 grant from the Awesome Foundation, which will help defray the total project cost. The Boston Foundation (Vision Fund Grant) granted us with $7,500, the Boston Society of Architects Foundation donated $3,000, and the Viet-AID funded $500 to help offset insurance costs. Our total project budget, however, will exceed the total budget cost listed above and we could use your support!
To fulfill the gap, we need to raise $6,660 by Sept 2nd. These funds will all go directly into the project.
All donations to BR+A+CE are tax-deductible. Please contact us directly at info@br-a-ce.org if you require formal acknowledgement of a donation for tax purposes.
THE VOLUNTEER TEAM…
…is comprised of designers, fabricators, students, and faculty brought together by BR+A+CE's Officers and Board of Trustees. The Tilt-Down Fence has been led by Iris Kim, Connie Wang, Petre Jariyanandhanetr and BR+A+CE co-founders Anthony Piemarini and Hansy Better Barraza. Together with Textile Collaborators  Michelle Dunbar, and Isabelle Camarra, Structural Engineer Brett Schneider and enthusiastic volunteers, the hope is to create an interactive symbol of community. We have been fortunate to be aided by Viet-AID, who promotes civic engagement and community building, provides small business technical assistance and micro-enterprise development.
Our board of trustees and advisers includes John Di Salvo, Kathryn Madden, Brett Schneider, Gretchen Schneider, Kamran Zahedi, Griscel Diaz, Lynn Hsu, Andrew Wise, and Antonia-Better Wirz.
Many hands have helped us get to where we are; please visit the following tabs for a complete list of volunteers and sponsors.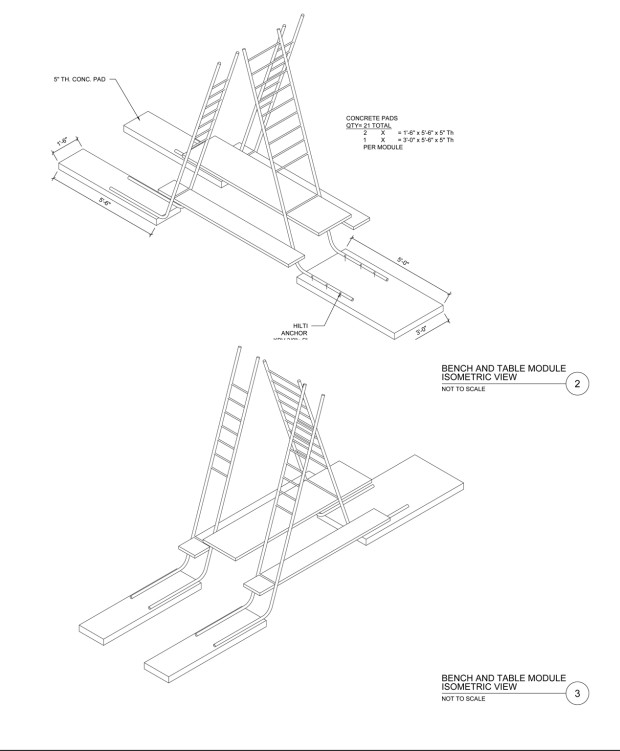 Mobile Farm Stand (2012)
In a 2005 study, national research institute PolicyLink discovered that wealthy neighborhoods have three times the number of grocery stores found in low‐income neighborhoods, creating an alarming phenomenon popularly known as "food deserts." Unsurprisingly, levels of health and nutrition are drastically lower in these communities where residents must rely on convenience stores or fast food restaurants, rather than traditional grocery stores or farmers' markets.
Some of Boston's most vibrant and diverse neighborhoods lying south of downtown, such as Mattapan, are also its most in-need.  For this reason, BR+A+CE has partnered with the Mattapan Food and Fitness Coalition and Brookwood Community Farm in Milton, MA to design a pedal-powered mobile farm stand to deliver fresh produce to underserved neighborhoods.  As well as providing sustenance to communities in need, the mobile farm stand aims to create a fun and educational dialogue about local agriculture and healthy eating.
We hope that by designing an eye-catching and petroleum-free stand that can visit various locations in one day according to pedestrian flow, we can help provide more consistent food access to residents and a more sustainablebusiness model for farmers looking to sell in low-density, low-income areas.
Thank you to MIT's Public Service Center, who provided early staffing funds; the Awesome Foundation, providing crucial design & fabrication funding; and the following volunteers who have graciously given their time towards the cause: Kory Almryde, RISD; Kevin Saxon, RISD; John DiSalvo, RISD; Allison Johnson, RISD; Chris Ardoin, RISD; Saja Tourbah, RISD; Nick Polansky, MIT; and David Gordon Wilson, MIT Engineering Professor.
Special thanks also go to RISD students Eugenia Yu and Lydia Bryan; and of course, everyone at Mattapan Food and Fitness Coalition and Brookwood Community Farm, our valued community partners.
Look for the mobile farm stand this summer!  For more information on how you can get involved, email info@br-a-ce.org
The Big Hammock (2010 // 2015)
The Big Hammock was an interactive public art installation that encouraged chance encounters between strangers as they shared a moment (or longer) relaxing together on Boston's Rose Kennedy Greenway. The Awesome Foundation, a foundation that awards monthly grants of $1000 for creative ideas in the arts and sciences, gave its first-ever grant to architect Hansy Better in 2010 for her proposal to construct a giant hammock in Downtown Boston.
The Big Hammock was erected in August 2010 from steel tubing with recycled content and woven by local craftspeople from 100% recycled rope. During the time it was installed on the Greenway, The Big Hammock played host to readings, live music performances, and countless locals and tourists alike. The hammock's rope length is 2,550 feet (warp) and 1,728 feet (weft) for a total of 4,278 feet: more than five times longer than Boston's Hancock Tower is tall.
---
After five long years, The Big Hammock is being reinstalled at Adams Park in Roslindale for their summer Roslindale Farmers' Market every Saturday in the month of August! This is BR+A+CE's initiative to not only bring public art to the public parks of wealthier neighborhoods.